Adding a custom patio to your home provides many benefits. Whether you're wanting to create the perfect entertainment spot for your guests, relax while enjoying the outdoors, or watch your kids play in the yard, a custom patio provides a space for all these activities and more.
A custom patio extends your outdoor living space, enhances your home's architecture and beauty, and increases its value by a significant amount. Here are some reasons why you should add a custom patio to your home in Palm Beach, Jupiter, Manalapan, and the surrounding areas.
---
Patios Extend Your Outdoor Living Space
Adding a custom patio to your property is essentially like adding a whole new room on to your square footage. A patio provides a relaxing, shaded spot to enjoy the outdoors and increases your home's livable square footage by a good amount. Whether you're grilling with friends, reading a book while enjoying the beautiful weather, or watching your kids play in the yard, a patio provides the perfect spot to enjoy several activities. Add some plush furniture, a grill, and some plant life, and you have the perfect set up to entertain guests and increase your time outdoors.
---
A Custom Patio Enhances Your Home's Architecture & Landscape
When you add a custom patio to your home, it provides the opportunity to enhance your already existing architecture. If your home has beautiful stone elements or decorative wood trim, adding a patio built out of these materials draws more attention to your home's style and makes the entire design cohesive. The best additions to make to your home are ones that look as though they've always been there. That's why it's important to choose materials that complement and match your home's existing architecture and building materials to enhance its beauty and draw attention to it.
Depending on the material used to construct your custom patio, you could see a substantial return on investment of about 60 percent.
---
Adding a Patio Increases Your Home's Value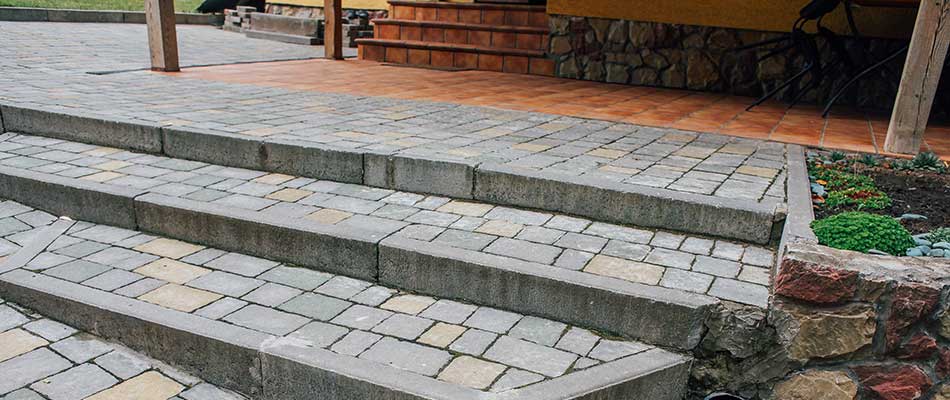 Any time you add on to your outdoor living space, your home's value drastically increases. When you use high-quality materials you can expect a healthy return on investment and an increased property value. Patios are very attractive additions to potential homebuyers, therefore homes that have custom patios tend to sell a lot quicker and for a much higher price than those without patios. People can easily envision spending time on a patio, cooking with friends, enjoying the outdoor weather, or just relaxing peacefully while soaking up some sun. Because of this, a custom patio is a wise investment, especially if you're planning on selling your home in the future.
Custom hardscapes such as a patio also enhance your home's beauty, and any time you accentuate your property, its value increases. This enhancement draws in buyers and leaves an unforgettable impression on them.
---
Add a custom patio that extends your living space and enhances your home.
We've been creating gorgeous custom patios and outdoor living spaces for homes in Palm Beach, Jupiter, Manalapan, and the surrounding areas since 1985. If you're ready to install a custom patio to your home, call us today at (561) 968-3243 to set up an initial consultation.