At Greenscape Design, we work with luxury beachfront properties across the areas of Palm Beach, Jupiter, Manalapan, and other nearby Florida cities. When we got the call to install landscaping and sod at a local beachfront property in Palm Beach, we made a plan, installed the sod, and ended up with a highly satisfied client.
Read to learn more about this landscaping and sod installation project and see why sod is an excellent choice for luxury properties looking to quickly establish a new lawn.
---
Why Sod Is a Good Choice to Quickly Establish a Lawn
Sod has many advantages over grass seed. The main advantage is that it takes much less time for sod to establish itself. Generally, within 2-3 weeks, your lawn will be ready for use and for foot traffic. With seeding, it can take a few months before you begin to see stable growth. For luxury properties, sod is the clear choice. When you've made a huge investment in your property, you want to choose the option that will help maintain your curb appeal in the most efficient way.
Sod also looks great upon installation, which is another benefit. When you've paid a lot of money to have scenic beach views, you don't want those views interrupted by land that doesn't have any growth on it.
---
Beachfront Landscapes Should Include Salt-Tolerant Plants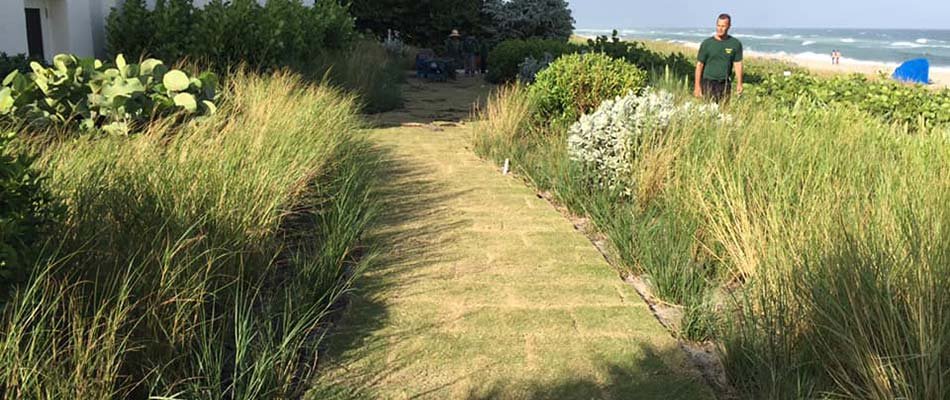 When we choose plants for beachfront properties, we have to consider that these plants will be facing a lot of wind, salt, and higher soil pH levels. The sandy soil at a beachfront property can present challenges to some plants that aren't built for that environment. We try to choose plants that have a high salt tolerance and that can hold up in strong breezes coming off the water. Plants we used in this particular design included:
Seagrape: this plant can actually be a shrub or a tree depending on how it's grown and maintained. Seagrape is native to our area of Florida and has high salt tolerance. It also does well in the type of soil found at beachfront properties. The fruit from this plant can be consumed as well.
Silver buttonwood: another native Florida plant, this is another salt-tolerant plant that can be a shrub or a tree. Its soft leaves provide a visually stunning contrast to the green leaves of the other plants within a beachfront landscape.
Green buttonwood: a variety of the silver buttonwood, green buttonwood is also highly salt-tolerant and ideal for beachfront properties. It can grow much taller than the silver buttonwood and is easy to grow. It also thrives in sandy soil and is drought-tolerant.
Ornamental grasses: to complement the other landscape plants, we also installed some ornamental grass that tolerates the beachfront environment.
---
Are you looking to install new landscaping at your Palm Beach, FL beachfront property?
At Greenscape Design, we have over 30 years of experience when it comes to installing landscaping across the areas of Palm Beach, Jupiter, Manalapan, and the nearby areas. If you're looking to add new landscaping to your beachfront property, then contact the area experts. Give us a call today at (561) 968-3243 to set up an initial consultation!