Installing beautiful custom landscapes for luxury residential and commercial properties is what we're experts at here at Greenscape Design. We've been putting in luxury landscaping for the areas of Palm Beach, Jupiter, Manalapan and nearby areas since 1985.
---
Leveling and Grading the Existing Space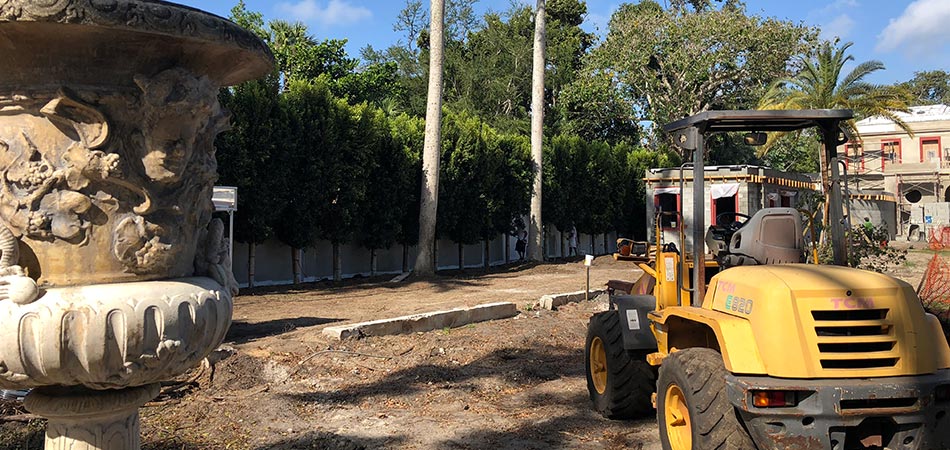 We began by clearing the existing space with our leveling and grading equipment so that we could have a blank canvas to install the planned out landscaping. The historical architecture of this gorgeous home meant it needed a plan that would match its level of beauty, so we worked to create just that.
---
Planting Trees to Create a Perimeter Around the Property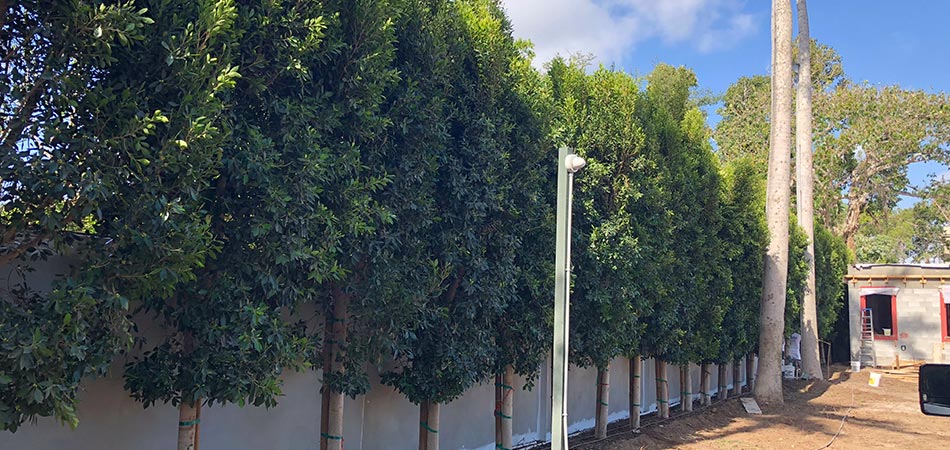 One way to create a privacy barrier is to install small trees or large shrubs around the perimeter of the property. By installing these plants, which we sourced from California, we were able to create a beautiful barrier that looks natural and matches the rest of the landscaping. This looks more attractive than installing a tall fence and also helps to deter potential trespassers or those who would try to get a peek of a luxury property.
---
Landscaping Elements and Plants Used in the Process
Throughout the property, we installed landscaping beds that were perfectly shaped to give them a professional, polished look.
Plants we used in the process include:
Podocarpus Maki
Golden Dew Drop Trees
White Crepe Myrtle
Green Tip Cocoplum
Cotoneaster
Green Island Ficus
Ilex "Stoke Dwarf"
Ganges Primrose
Giant Apostles Iris
Butterfly White
Mexican Bush Sage
Pinwheel Jasmine
Jasmine Minima
We also laid down a custom sod installation of Diamond Zoysia, which is a deep-green, warm-season grass. It is also heat tolerant, which is something that is necessary for grass to successfully grow in the parts of Florida that include Palm Beach, Manalapan, and Jupiter.
Diamond Zoysia also grows more thickly than other grasses, meaning there is less chance for weeds to spring up and affect the grass growth.
At Greenscape Design, we offer a one-year warranty on all plants installed through a contracted maintenance package.
---
Project Photos
Check out photos of the installation process as well as the final look.
---
Are you looking to renovate the landscaping on your luxury commercial or residential property?
We proudly service Jupiter, Manalapan, Palm Beach, and nearby areas. Due to working on luxury properties, we have extensive insurance that covers up to $3 million. We can also be bonded upon request.
Call (561) 968-3243 today to learn more about how Greenscape Design can help your property look great!