A well-kept property is the crown jewel of a luxury home. Neatly trimmed hedge lines, clean cut curb lines, and healthy trees help to highlight the beauty of high-end estates.
Your luxury property located in Palm Beach, Jupiter, Manalapan, and nearby areas needs grounds maintenance to preserve a tidy, green look year round.
---
Professional Grounds Maintenance Creates a Finished Look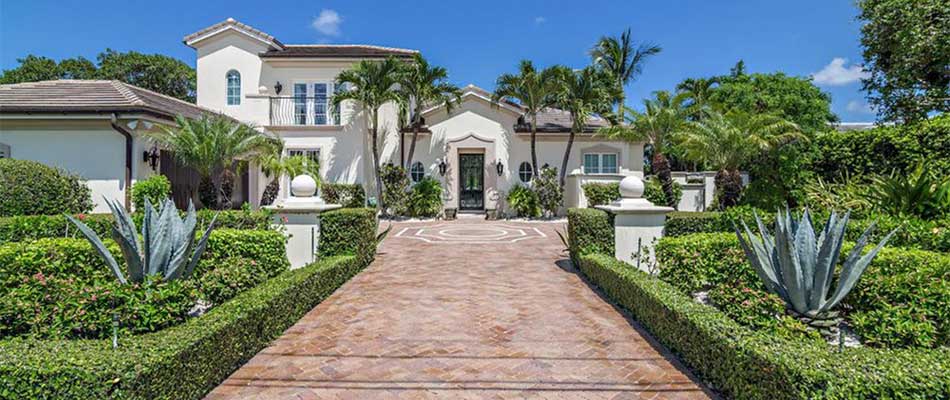 The primary advantage of professional grounds maintenance is regularity. Crews will visit your property on a schedule to prevent overgrowth of hedges, trees, grass, and other landscape elements.
Most luxury estates have professionally installed landscaping which requires regular service to preserve a neat and tidy look. A finished look requires service with tools that create clean-cut lines and "flush" hedges. If bushes, shrubs, and trees are left uncared for, branches will jut out and the continuity will be interrupted, leaving you with an eyesore.
Part of the beauty of any luxury residential or commercial property is a professionally-cared-for lawn.
---
Grounds Maintenance Includes Fertilization & Weed Control for Healthy Grass & Beds
One aspect that cannot be ignored on the exterior of a luxury home is fertilization and weed control. Proactive measures must be taken to prevent weeds from taking over and to keep grass and plants well fed.
Fertilization - Regular fertilizer service gives grass and plants the strength they need to fight off weeds and resist pests and plant disease. Flowers bloom more often, grass will be greener and fuller, and trees stay healthy with the appropriate fertilizer treatments.
Weed control - Weeds can be kept in check with pre- and post-emergent treatments. A professional crew is equipped to treat grass and landscape beds with the correct herbicides to prevent germination of weeds like dandelion, crabgrass, and clovers. Workers can also remove weeds that manage to take root with regular bed maintenance during each visit.
---
Trimming & Pruning Give Bushes & Trees Organized Look While Preserving Health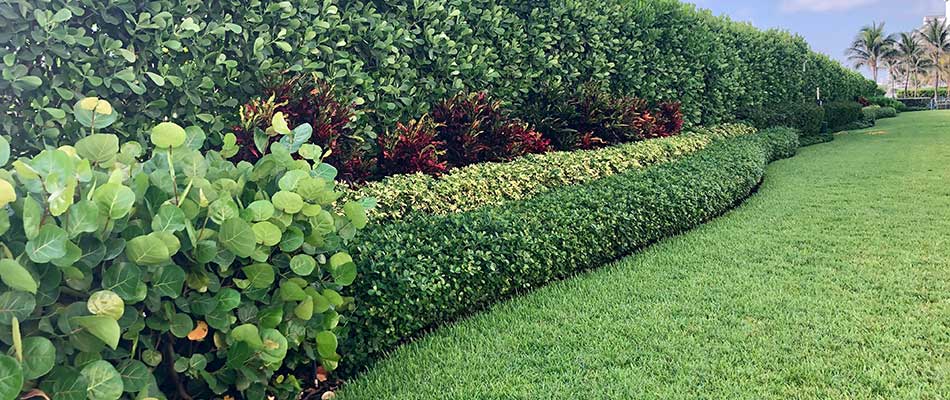 Other important services provided by grounds maintenance crews are trimming and pruning. Below you will find a description of each service, and how it will benefit your luxury property.
Trimming - This service is applied to bushes, shrubs, hedges, and trees. The procedure removes dead or dominant branches for the overall health of the plant. Trimming also preserves the desired shape of plants and trees to provide an organized look.
Pruning - This service is completed for the health of the plant and takes an experienced touch. Trained landscaping professionals can spot the signs of plant disease and prune specific branches to prevent them from spreading. Pruning is also important for the winterization of plants to ensure their healthy growth in the spring.
---
Let us manage the needs of your luxury property.
We provide grounds maintenance service to a number of large estates in the area. Call (561) 968-3243 today to schedule a visit from our team for your luxury property in Palm Beach, Jupiter, Manalapan, and the surrounding areas.