Working with luxury residential properties throughout the Florida areas of Palm Beach, Jupiter, and Manalapan is Greenscape Design's passion. We've been helping to install gorgeous landscaping in and around these areas since the mid-1980s.
We were recently contracted to install custom landscaping at a newly constructed home on Palm Beach Island and we were excited to create another masterpiece. Here are some photos and more information from this install.
---
Increase Curb Appeal with Custom Landscaping Design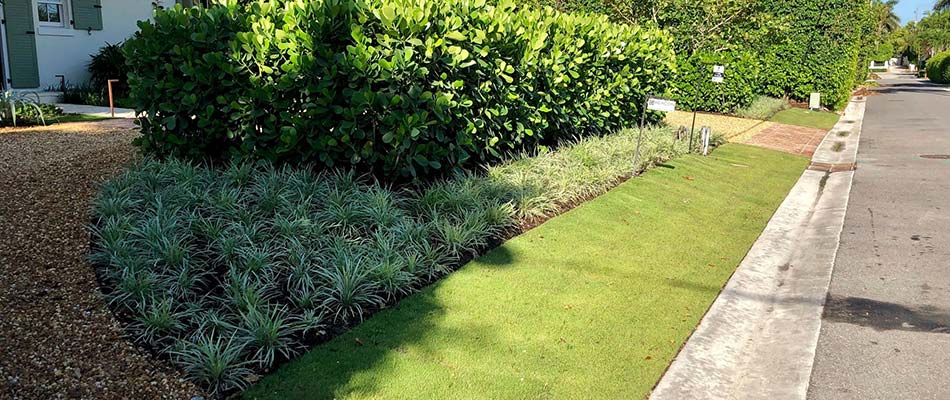 When you invest in a luxury property, you have a big investment that needs protecting. That means it's necessary to take certain steps to make sure the exterior of your property looks great all the time. At this beautiful Palm Beach Island house, custom landscaping only serves to complement the fantastic architecture.
Landscaping provides a curb appeal increase and helps with your return on investment.
---
Native & Tropical Plants Are Best for the Florida Climate
At this installation, we chose many native Florida plants that thrive in our subtropical climate. Using native plants gives them the best chance to reach optimal health conditions. The plants that were used here include:
Sea grape trees: These have large leaves that grow to be 8-10" in diameter. Female plants produce a fruit that looks like grapes and can be consumed. It's hardy, can withstand high winds, and is also salt-tolerant, making it the perfect plant for a Florida beach area.
Pigeon plum: This tree can grow 1-3 feet in a year and grows well in full sun or partial shade. It also is salt-tolerant and produces fruit.
Milky Way trees: These tropical plants bloom in summer with white fragrant flowers. These are smaller trees and can work well in partial sun or full sun.
Green Malayan Coconut palms: This type of palm is also a good choice for beach areas based on its salt tolerance. It will produce coconuts as it grows and matures.
Adonidia palms: This is also referred to as a Christmas palm. It produces fruits that turn red when they ripen, resembling Christmas ornaments.
Foxtail palms: These palms do well in humid environments and also tolerate salt and wind well.
Thrinax palms: A Florida native, Thrinax grow to 15-30 feet in height and bloom with fragrant flowers.
Bougainvillea: This is a tropical vining shrub that has many different, vibrant colors. The colors come from bract leaves that turn colors. They can be red, orange, yellow, white, or a bright fuschia.
Gardenia: This flowering shrub produces beautiful white blooms that also smell great. It is a tropical plant that requires some extra maintenance to grow well.
Dombeya: Also referred to as a tropical hydrangea, this flowering plant can be grown as a medium size tree or large shrub depending on how it's treated.
Hibiscus: Another flowering shrub that works well in tropical climates, hibiscus plants produce flowers that can be red, yellow, pink, orange, and more.
---
Why Diamond Zoysia Grass Is a Good Choice for Your Yard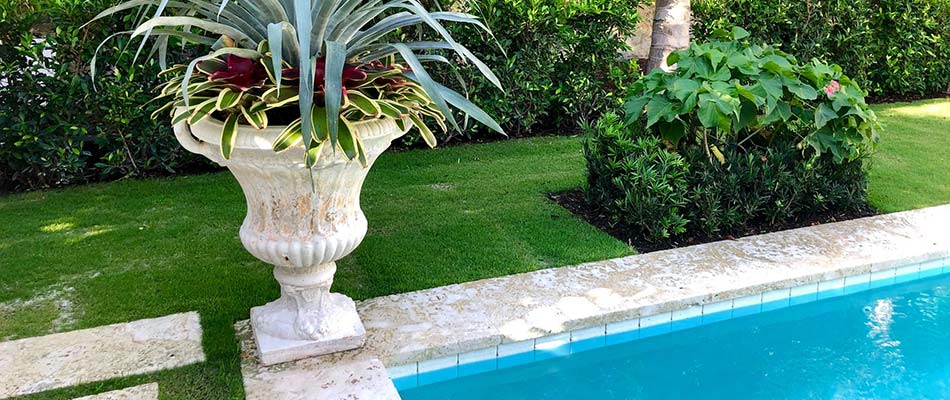 We finished the job by putting in some diamond zoysia grass. This is a warm-season grass that does well in the Florida weather. It's deep green, has a soft texture, and definitely creates a high-end appearance. Diamond zoysia grows well in both shade and sun, making it an excellent choice for this Palm Beach Island location.
---
Check out some more photos from the project here!
---
Looking for new landscaping at your luxury residential property?
With more than 30 years of experience, we know exactly what your property needs to look great when it comes to landscaping. We also provide full-service maintenance so we can ensure that your lawn and landscaping shines all year. Contact us at (561) 968-3243 to set up a consultation!