When one of our elite clients called us wanting to install artificial turf and new custom landscaping around their pool area, we delivered. Working with luxury residential and commercial customers in and around Palm Beach, FL is our specialty!
Projects do not begin until the clients and their landscape architects have finalized, city approved plans in hand. We partner with top landscape architects throughout the area to install their landscape designs. In all of our landscape projects we strive to provide the highest quality plant material available.
---
Preparing the Area for Artificial Turf & Landscape Installation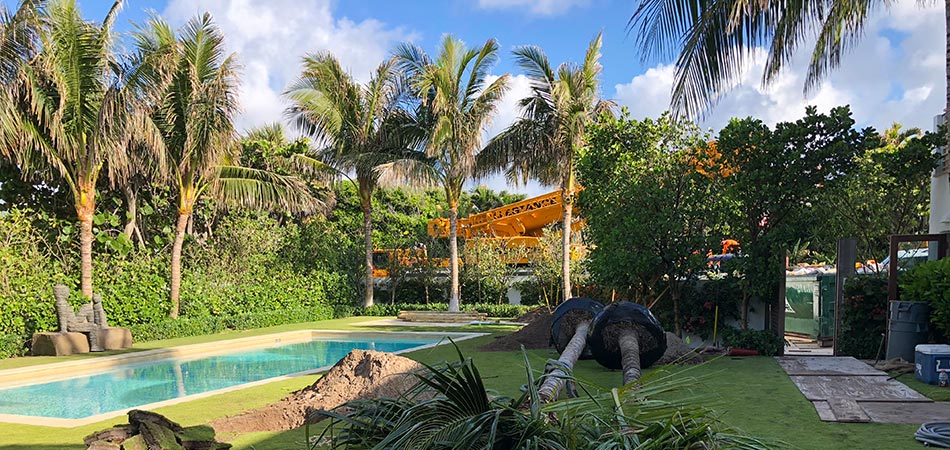 When we arrived, the customer wanted to move some palm trees to a different location. We dug them up in the proper manner and moved them in a way that minimized trauma to the plant. This left holes behind that we needed to fill with soil before moving on to the next step.
After that, we began the process of clearing away their existing real grass to get the area fully prepared to install the artificial turf.
---
How We Install Artificial Turf
When we install synthetic grass, as with anything we do, we do it with precision and the best techniques available. At this job, we made sure to lay down the turf in a way that looks as though the pieces flow together--there are no visible seams to ensure that the artificial turf looks as close to real grass as possible.
Before installing the artificial turf, we prep the area in line with industry standards and good practices. This prep work is essential for a long term attractive installation.
---
Benefits of Using Synthetic Turf in Florida
For this job, artificial turf was a great choice. There are many benefits to using synthetic turf, especially here in Florida and especially around the pool area. When an area sees a lot of foot traffic, real grass can suffer. We use high-quality artificial turf that's made to stand up against foot traffic.
Fake grass also doesn't require watering and it's made to drain moisture quickly, which is great for a pool area. It's also strong enough to withstand the heat of Florida and is UV protected.
---
Installing a Beautiful Custom Landscape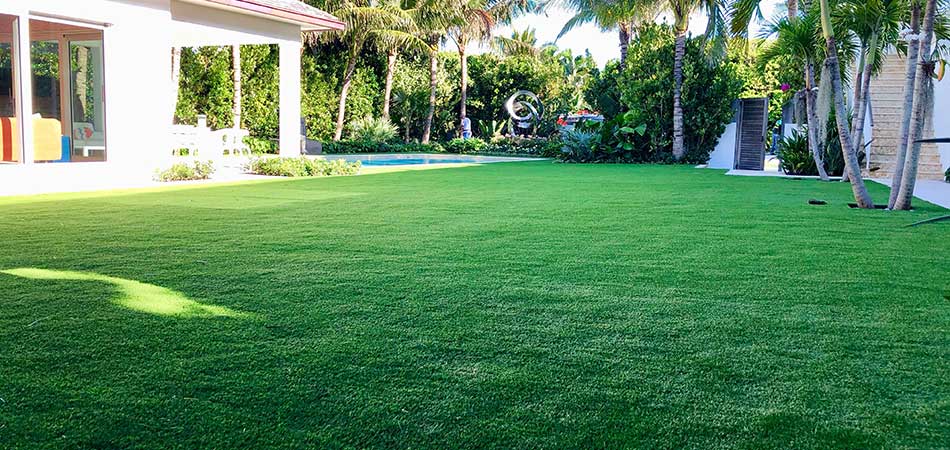 To go along with the new artificial turf, we also installed some new plants to complement the look and feel of the property. This homeowner already had some lovely sculptures in their yard, so we planted additional plants around them to highlight those focal points. By using annual flowers, we were able to insert a needed pop of color throughout their landscaping.
The end result was a beautiful outdoor space that the homeowner and their family can enjoy all year. We offer a one-year warranty on all plants that we install and we will also maintain our installations with our contracted clients.
---
Project Video
---
Project Photos
Check out some additional photos from the project!
---
Do you need a custom landscape installed at your luxury home or commercial property?
We'd love to work with you and our partner landscape architects to create a gorgeous oasis in your yard in and around Palm Beach, Jupiter, and Manalapan. Call us today at (561) 968-3243 so we can begin our initial consultation.